Print Page
About Us

Our company, Lincoln Garrard Broadcasting Company, began broadcasting in Lincoln County in 1961. It began with the partnership of W.G. Morgan, Ray Doss, S.C. Bybee and Lanier Burchett and the building of WRSL on 1520 kHz. The following story appeared in the Interior-Journal on October 19, 1961:
Manager Tells Rotarians WRSL To Go On Air Nov. 1
Station Manager Lanier Burchett of WRSL told members of the Stanford Rotary Club at the weekly dinner meeting Tuesday night that the new Stanford-Lancaster radio station will be on the air Nov. 1 or soon thereafter.
The station, located between Stanford and Lancaster on the W.G. Morgan farm on the Lancaster Road, will be 500 watts and will be 1520 on the dial. The station will be on the air from 6 a.m. until sunset. The station will receive news from the Associated Press.
In addition to Mr. Burchett, the other owner of the Stanford-Garrard Broadcasting Co. (sic) are Mr. Morgan, Ray Doss and S.C. Bybee, both of Columbia. Mr. Burchett is also from Columbia. Mr. Burchett said other station personnel will include John Stearns, program director; Robert Hopkins, chief engineer; Dick Tunney, news director.
Frequency tests were held Tuesday midnight to test the equipment prior to final inspection by the Federal Communications Commission.
Mr. Burchett said he will continue to make his home in Columbia until the close of the school year but will have an apartment here. His wife and seven year old son will join him here later. He is immediate past president of the Columbia Rotary Club, member of the Methodist Church, Masonic Lodge and VFW.
The manager said the station will cooperate with civic clubs, schools, churches, professional associations and other organizations in the area.
Dr. Julian Wright, program chairman for the meeting, introduced Mr. Morgan who introduced the guest speaker.

Calvin Smith bought into the company in 1965 and started WRSL-FM on 95.9 mHz in 1967. WRSL-FM was upgraded to a higher-powered signal and moved to 96.3 mHz in 1995 and eventually the call sign was changed to WXKY-FM.
Due to business opportunites, we recently moved WRSL-AM to Corbin, Kentucky and sold WXKY-FM to Educational Media Foundation in 2006, which operates the station as a non-commercial station. Recently, we answered the call of the community to bring back local, commercial radio with WPBK-FM.
WPBK-FM is Central Kentucky's newest radio station and is a full-powered, commercial radio station operating on 102.9 mHz. The station is licensed by the FCC to Crab Orchard, Kentucky, in Lincoln County. The transmitting antenna is located on the highest point in the county and the studio and business office is located in the Arch "Buzz" Walker building on Main Street in Stanford.
The station operates 24 hours a day, 7 days a week. Our focus is on serving the needs of the Lincoln County community, of which Crab Orchard is a part.
Our music format is a wide variety. We sincerely believe that radio is much more to our listeners than just a juke box. Our music selections are entertaining and appeal to a wide audience but it is the information that we are dissemenating that is most important.
Music is available everywhere these days from iPods to satellite radio. However, you can't get local news and information from an iPod or satellite radio. As the pace of our lives increases, radio becomes more relevant and more important. No other medium can travel with you as a constant companion like radio does. Radio is nimble and instantaneous. Radio is local and radio works for listeners and advertisers alike.

The WPBK call sign in the result of a Sponsorship Agreement with PBK Bank, which is the primary, hourly sponsor of the station's programming. PBK Bank CEO Bruce Edgington was one of the community leaders who saw the need for a local radio station and he and his Board of Directors have helped make it a reality through their unique Naming Rights Sponsorship.
In essence, WPBK-FM is the second generation of radio in Lincoln County. While the Smith brothers pictured below grew up with WRSL Radio, some of them are now involved in WPBK-FM, version 2.0 of WRSL, if you will.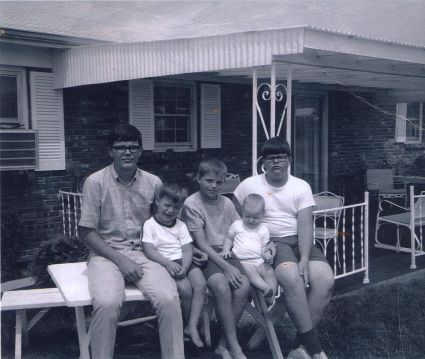 (Smith Brothers 1969: left to right Calvin, Jonathan, Phillip, Joseph and David)